ER's Top Ten Best Moments That Are So Relatable Today.
It's an iconic TV show that changed tv in so many ways. It gave us an up close and personal look into a busy ER, but also into life and the complications of life that are relatable to us even today, more than a decade after the show ended.
ER was a medical drama that literally changed tv. Not only was it a look into a busy hospital ER but it was also a look into lives of doctors and nurse. Here are the top storylines that made me fall in love with this show.
1.)The relationship between Carol and Doug: This was a roller coaster ride for those of us who are die hard fans. Doug was the bad boy who had a soft spot. His soft side came out where carol was concerned. In the first season, when carol attempted to commit suicide this is where we seen Doug's soft side come out the most. We as fans finally got to see Doug and Carol happy together until Doug got fired from county and moved on to a new job! Carol would then find out she was pregnant. We got to follow her to the twins birth and then she figured out she could not live without the love of her life, we got the last shot of Carol and Doug reuniting. 
2.) The Attack of Carter and Lucy: Carter and Lucy where both medical students. When Lucy went into one of the exam rooms to get a piece of medical equipment to save another patient. She was stabbed by a patient suffering from mental illness. Carter went in to find her and he was also stabbed. Carter would survive, but Lucy would not. We watched Cater grieve this loss in a very unhealthy way. However he would come through the other side and be an amazing doctor. 
3.)Addiction: ER dealt with addiction in many ways. Susan's sister was addicted to drugs, leaving Susan to pick up the piece most of them time. Cater after being stabbed got hooked on his pain killers. He got clean through the support of his fellow co-workers. They also showed what drug seeking looks like in a hospital. 
4.)Aging parents: At one point Dr. Green had his aging father who was in poor health come live with him. We watched as he cared for his father until his death.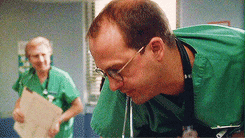 5.)Cancer: Dr. Green would face brain cancer. After finding love again with a fellow doctor. We would watch as he fought for his life. Then we would watch as he spends his last days with his daughters and wife in paradise. He would pass on and we would watch as the whole hospital grieves his death.